About UMD PRSSA
Public Relations Student Society of America is a nationally recognized, dues-paying pre-professional organization for aspiring public relations practitioners. The University of Maryland chapter is among 300 chapters in the United States.



UMD PRSSA provides professional development opportunities tailored specifically for students looking to start a career in public relations. Membership within UMD PRSSA costs $70 per year. The chapter helps members broaden networks, develop professional relationships and hold leadership positions.





The UMD PRSSA chapter is led by an executive board, which is comprised on eight leadership positions.


| | |
| --- | --- |
| History of UMD PRSSA | What is UMD PRSSA? |
On Nov. 11, 1967, delegates at the PRSA Assembly in Philadelphia, Pennsylvania, unanimously approved the creation of the Public Relations Student Society of America. In 1968, PRSA President Edward P. VonderHaar tasked members of the Committee on the Formation of a Student Public Relations Society to define the future relationship of PRSA and PRSSA, tighten national charter regulations and review applications for PRSSA charters.



On April 4, 1968, the PRSA Board of Directors charted the University of Maryland chapter as an "alpha" PRSSA chapter. It is one of nine original chapters created, making it the oldest public relations organization at the university.



UMD PRSSA is a student-led pre-professional organization for students interested in a career within public relations. The University of Maryland chapter provides members with networking opportunities, a guest speaker series and resume-building workshops.



The chapter aims to serve members in four critical areas:

Enhance a member's public relations curriculum
Help members develop their professional image
Provide leadership opportunities to each member
Help members connect with our extensive alumni network
Powered by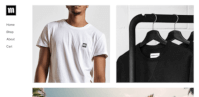 Create your own unique website with customizable templates.