​2019 Full-time & Internship University Application for Twitter

This is the best place you have ever worked. Ever. We are the window to the world. Our mission is to give everyone the power to create and share ideas and information instantly, without barriers. We believe the open exchange of information is a compelling force for good in the world, and our real-time platforms empower authentic voices, conversations, and ideas. Twitter empowers everyone to access and express what's happening in the world right now.

Whether you are a student looking for an internship or full-time role post graduation, this is where you want to launch your career.

Fill out

this

application to apply.
Spring 2019 Internships at Edelman

Global marketing communications firm Edelman is looking for interns for the spring semester!

Brand, Corporate Affairs, and Communications Marketing internship positions are available.

Click through below for more information and to apply.

Visit here

to learn more about Edelman.

BrandCorporate AffairsCommunications Marketing
Powered by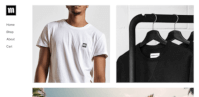 Create your own unique website with customizable templates.